Sheyda Jahanbani
---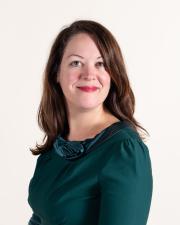 Associate Professor
History of the U.S. and the World (1776-2001); Modern U.S. History; the U.S. and the "Third World;" Global Poverty, Social Policy, Social Reform.
Contact Info
Wescoe Hall, Room 3614

Office Hours: Will be held Virtually
Tues & Thurs. | 3:00 PM - 4:00 PM

& By Appointment

---
Biography
—
Sheyda F. A. Jahanbani (Ph.D., Brown University, 2009; M.A., Brown University, 2001; B.S.F.S., The Edmund G. Walsh School of Foreign Service, Georgetown University, 1999) is an historian of American foreign relations specializing in the post-1945 period. She is especially interested in the legacy of the liberal internationalist tradition in Cold War foreign policy. This includes the history of US relations with the "Third World," the history of development, economic globalization in the 20th century, and the emergence of distinctly "global" problems in the post-World War II period. Professor Jahanbani is currently completing a book manuscript that seeks to historicize the origins of a conception of global poverty in postwar social thought and politics. The manuscript, "'The Poverty of the World:'" Discovering the Poor at Home and Abroad, 1935-1973," (forthcoming from Oxford University Press)  shows how a transnational conception of poor people as "underdeveloped" emerged from the nexus of intellectuals, activists, and administrators who shaped U.S. domestic anti-poverty and international development policies in the late-20th century.
In addition to her pursuits as a scholar, Dr. Jahanbani is also interested in national politics and contemporary policy issues. She has served as an intern to the U.S. Senate Committee on Health, Education & Welfare (1996-97), and the Office of Public Affairs, National Security Council, Office of the President (1998-99). She also worked as an organizer for the United Auto Workers in their campaign to advocate for academic workers, particularly non-tenured faculty and graduate teaching assistants at public and private universities across the country.
Teaching
—
Teaching Profile:
Professor Jahanbani teaches graduate and undergraduate classes in international history, the history of US foreign relations, and 20th century US history.
Recent Courses:
HIST 314: Globalization: History and Theory
HIST 696: Seminar in: US and World History
HIST 806: Studies in: International History
Selected Publications
—
Recent Publications:
"The Poverty of the World:" Discovering the Poor at Home and Abroad, 1935-1973 (Oxford University Press, forthcoming )
Book Review in Journal of American Studies, 48 (2014)
"One Global War on Poverty: The Johnson Administration Fights Poverty at Home and Abroad, 1964-1968" in Beyond the Cold War: Lyndon Johnson and the New Global Challenges of the 1960s (Oxford University Press, 2014)