Ridwan Muhammed
---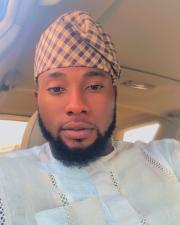 Graduate Teaching Assistant
Contact Info
Wescoe Hall, Room 2018

Office Hours:
Fri. 1:00 p.m. - 3:00 p.m.

---
Biography
—
Ridwan Muhammed earned BA History from the University of Ilorin, and also MA History from the University of Ibadan. His interests are on the coinciding colonial and post-colonial discourses in African History, with the intersection of women, gender, sexual reproductive health, infant health, and development. Ridwan is fascinated to these subfields, owing to his cognate academic training in women and development studies, and professional endeavors, as the Director of Media Relations at La Gente Medical Trust Fund, an NGO that offers and promote sustainable medical service to the vulnerable population, especially among women, children, and aged. Ridwan longs to produce new knowledge of African histories, using environment, culture, economy, and literature that draws primarily from archival, oral, and ethnographical sources.  
Advisor: Professor Elizabeth MacGonagle.