Richard Godbeer
---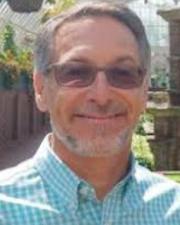 Biography
—
Dr. Godbeer joined KU in 2019 as Director of the Hall Center for the Humanities and Charles W. Battey Distinguished Professor of History. He received his B.A. from Oxford University in 1984 and his Ph.D from Brandeis University in 1989. He taught in the Department of History at the University of California, Riverside, from 1989 to 2004 and in the Department of History at the University of Miami from 2004 to 2014; he served as founding Director of the Humanities Research Center at Virginia Commonwealth University from 2014 to 2019. His research focuses on witchcraft, religious culture, gender, and sexuality in colonial and revolutionary North America.
Selected Publications
—
Dr. Godbeer is the author of six books: The Devil's Dominion: Magic and Religion in Early New England (Cambridge University Press, 1992), Sexual Revolution in Early America (Johns Hopkins University Press, 2002), Escaping Salem: The Other Witch Hunt of 1692 (Oxford University Press, 2004), The Overflowing of Friendship: Love between Men and the Creation of the American Republic (Johns Hopkins University Press, 2009), The Salem Witch Hunt: A Brief History with Documents (Bedford/St. Martins, 2011), and World of Trouble: A Philadelphia Quaker Family's Journey Through the American Revolution (forthcoming from Yale University Press in Fall 2019). Dr. Godbeer is currently working on two book projects, Performing Patriarchy: What Gender Meant in Early America and The Empire of Topsy-Turvy, which will tell the story of the partnership between composer Arthur Sullivan, dramatist W.S. Gilbert, and theatre impresario Richard D'Oyly Carte, who together dominated the late Victorian theatre in England and produced a string of famous comic operas, including The Mikado and The Pirates of Penzance.
Grants & Other Funded Activity
—
Dr. Godbeer has been awarded research grants and fellowships by a range of institutions, including the National Endowment for the Humanities, the American Philosophical Society, the Ford Foundation, the Andrew W. Mellon Foundation, and the Society for Historians of the Early American Republic. He has taught a broad range of undergraduate and graduate courses on the colonial and revolutionary periods, including the first half of the U.S. survey, Images of a New World, Witchcraft in Early America, Religious Culture in Early America, Gender, Sex, and Sexuality in Early America, The American Revolution, and U.S. LGBTQ History.