Rachel Schwaller
---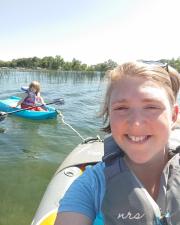 Multi-Term Lecturer
Religion in the US, US History, Scriptural Interpretation, Conservative Evangelicalism, American Studies, Economics, Neoliberalism, Race and Religion, 20th Century US; Ancient World with a focus in Ancient Egypt and Ancient Mesopotamia, Biblical Studies
Contact Info
Wescoe Hall, Room 3603

Office Hours: In Person
Tues. & Thurs. | 2:30 PM - 4:00 PM

---
Biography
—
Rachel received her BA and first MA in History at Penn State University focusing in Ancient Near Eastern Archaeology and Biblical Studies. She came to the KU American Studies doctoral program in 2014 and received a second MA and her PhD in 2019. Since then, she has been a lecturer in the Department of History and the Department of Religious Studies.  She is currently a member of the 2022/2023 American Examples cohort, a collaborative working group of early career scholars in the field of Religion in America, supported by the Luce Foundation. 
Research
—
Rachel's research focuses on uncovering the intellectual history of the white, conservative Christians in America by examining denominational magazines between the 1940s to the present. Rachel examines how these magazines preceded larger national conversations regarding free market economics and capitalism, limited government, race, and gender. These magazines also demonstrate how modern devotional literature encourages quotidian acts by readers that can lead to national change. Her research builds on the field of anthropology of scriptures, scripturalization, and biblicism.
Rachel will have upcoming publications in 2023 in Postscripts, in 2024 in American Examples edited volume 3 and in Vincent Wimbush's upcoming edited volume Masquerade: Scripturalizing Modernity Through Black Flesh. 
Teaching
—
Rachel's courses focuses on interactive student learning, active discussion, and co-creating learning spaces. Her teaching focuses on religion in American history. 
Recent Courses:
REL 171/AMS 290 Religion in American Society
HIST 316 African American Religions: Slavery to the Present
HIST 101: Intro to Western History: 3 Myths of American Religion
HIST 203: Speaking the Past: Christianity in American Life