Mikhayla Sheeley
---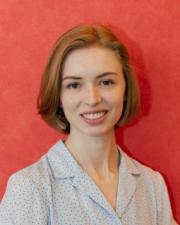 Academic Advisor for History
Biography
—
Mikhayla has a B.A. in Linguistics with a minor in German Studies from the University of Kentucky and an M.S.E. in Curriculum and Instruction with an emphasis in TESOL from KU. Before starting her advising career, she worked in KU's International Support Services office for two years as an Orientation Coordinator. Mikhayla is especially passionate about language study and study abroad, and she always enjoys discussing these topics with students.
If you need assistance scheduling an appointment or accessing drop-ins, please contact our front desk at (785) 864-2834, email advising@ku.edu, or schedule online using Jayhawk GPS.
For more information about Drop-In Advising, head to the Undergraduate Drop-In Advising page.