Marie Grace Brown
---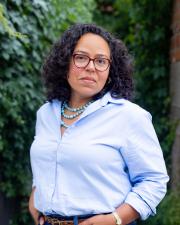 Associate Professor
Associate Chair
Modern Middle East; Gender and Sexuality; Dress and Body Culture; Imperialism in Africa and the Middle East.
Contact Info
Wescoe Hall, Room 3644

Office Hours: In Person
Tuesday 1:00 PM - 4:00 PM

---
Biography
—
Marie Grace Brown (Ph.D. University of Pennsylvania) is a cultural historian of the Modern Middle East with a special interest in questions of intimacy, gender, empire, and the body as historical text.
Her award-winning book, Khartoum at Night: Fashion and Body Politics in Imperial Sudan (Stanford University Press, 2017), traces gestures, intimacies, and adornment to give a history of northern Sudanese women's lives under imperial rule. It argues that Sudanese women used their bodies to mark and make meaning of their positions in shifting socio-political systems of tradition, nation, modernity, and global connection. The result is a highly participatory tale of empire, characterized by economic and cultural exchange, mobility and civic opportunity, and evolving measures of beauty and womanhood.
Brown's second book-length project, "A World of Color: Adventures in Romance in Imperial Sudan," continues the exploration of the relationship between bodies and imperial power. The project introduces romance—the desire for, and negotiations over, companionship, connection, and adventure—as an analytic lens, and argues for an alternate imperial geography in which sentimental attachments defined the contours of empire.
Brown's work has been supported by grants from the American Association of University Women, the Social Science Research Council, the University of Kansas, and the Institute for Citizens and Scholars [formerly the Woodrow Wilson National Fellowship Foundation].
Research
—
Modern Middle East; Gender and Sexuality; Dress and Body Culture; Imperialism in Africa and the Middle East.
Teaching
—
Professor Brown teaches a wide array of classes on the (broadly defined) Middle East including courses on early Islamic empires, the fraught establishment of modern nation-states, political and social revolutions in the twentieth century, gender and sexuality, and high-class tourism. Brown works closely with the Kansas African Study Center and the Center for Global and International Studies and has advised both undergraduate and graduate students from across disciplines. She welcomes all students to her classes, especially those with little or no background in Middle East studies.
Recent Courses:
HIST 177: 100 Years of Spring: A Century of Protest in Egypt
HIST 327: The Premodern Middle East
HIST 328: The Modern Middle East
HIST 480: Postcards from the Orient: Travelers' Tales of the Middle East
HIST 481: From Harem to the Streets: Gender and Sexuality in the Modern Middle East
HIST 570: Middle East after WWII