Laura Mielke
---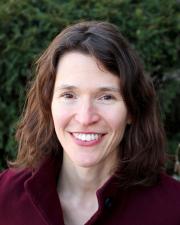 Dean's Professor of English
Interim Department Chair
Biography
—
Laura was born and raised in Boone, North Carolina, majored in English and Philosophy at Saint Olaf College in Northfield, Minnesota, and earned an MA and PhD from the University of North Carolina at Chapel Hill. She joined the KU faculty in 2007.
Research
—
Research Profile:
Nineteenth-Century U.S. Literature and Culture, American Indian and African American Literatures to 1900, Early American Drama and Oratory, Performance Studies
My research focuses on the intersection of literature, politics, and performance in America before the twentieth century. I have published books, digital scholarly editions, essays, and articles taking up such topics as the impact of theater on antislavery speech prior to the Civil War; the political role of literary sentimentalism in the era of Native American removal; the role of Indigenous performances in early settler literature; and remixes of nineteenth-century culture in contemporary film and literature. At present I am at work on a book considering what nineteenth-century Black orators had to say about their audiences.
Teaching
—
Teaching:
In addition to regularly teaching the survey of "American" literature to 1865, I have taught undergraduate and graduate courses on abolitionist literature, women's writing, castaway fiction, transcendentalism, life writing, drama and oratory, the captivity narrative, and a range of nineteenth-century authors.
Selected Publications
—
Recent Publications:
Provocative Eloquence: Theater, Violence, and Antislavery Speech in the Antebellum U.S. University of Michigan Press, 2019. Finalist for the Association for Theatre in Higher Education's Outstanding Book Award and the Theatre Library Association's George Freedley Memorial Award.
Native Acts: Indian Performance, 1603-1832, edited by Laura L. Mielke and Joshua David Bellin, introduction by Mielke, afterword by Philip J. Deloria. University of Nebraska Press, 2011.
Moving Encounters: Sympathy and the Indian Question in Antebellum Literature. University of Massachusetts Press, 2008. Co-winner of the 2009 Byron Caldwell Smith Book Award and a 2009 Choice "Outstanding Academic Title."
Editing
Broadview Anthology of American Literature, one of twelve general editors. Vols 1 & 2, 2022.
"John Brougham's Columbus Burlesque," edited with Rachel Linnea Brown. Scholarly Editing 39, 2021.
"'a black diamond among thim American wifes': Kate Edwards Swayze's Anti-Slavery Adaptation of George Colman's Inkle and Yarico," edited with Martha Baldwin. Scholarly Editing, vol. 36, 2015
Selected Articles & Book Chapters (many available via KU ScholarWorks)
"Patriot, Satirist, Bagman: Picturing John Brougham's Columbus Burlesque," New England Theatre Journal 32, 2021, pp. 23-51.
"Zitkala-Ša's Defiant Gothicism," American Women's Regionalist Fiction: Mapping the Gothic. Edited by Rita Bode and Monika Elbert. Palgrave, 2021, pp. 339-357.
"Performance, Theatricality, and Early American Drama," Companion to American Literature, Volume 1. Edited by Theresa Strouth Gaul. Blackwell Publishers, 2020, pp. 428-44.
"Performative Cultures of Early America," Cambridge History of Native American Literature. Edited by Melanie B. Taylor. Cambridge University Press, 2020, pp. 74-88.
"Native American Presence," Hawthorne in Context, edited by Monika Elbert. Cambridge University Press, 2018, pp. 46-56.
"Transforming Captivity Narratives in Kevin Willmott's The Only Good Indian," American Studies, vol. 55, no. 1, 2016, pp. 5-30.
Memberships
—
Frances L. Stiefel Teaching Professorship in English, KU English Department (2021-2024)
J. Michael Young Academic Advising Award, KU (2020)
University Scholarly Achievement Award, KU (2020)
Franklin Research Grant, American Philisophical Society (2020)
Humanities Research Fellowship, KU Hall Center for the Humanities (2014, 2021)
Friends of the Hall Center Book Subvention Award, KU Hall Center for the Humanities (2018)
Byron T. Shutz Trust Award for Excellence in Teaching, KU (2017)
Senior Administrative Fellow, KU (2016-17)
Mabel S. Fry Graduate Teaching Award, KU English Department (2015)
Conger-Gabel Teaching Professorship, KU English Department (2010-2013)