Kent Blansett
---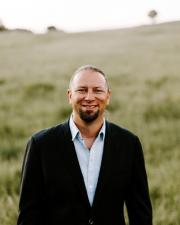 Langston Hughes Associate Professor
Indigenous Studies; US History
Biography
—
Kent Blansett is a Cherokee, Creek, Choctaw, Shawnee, and Potawatomi descendant from the Blanket, Panther, and Smith families. Read more about his family history here: Kent Blansett's Family History.
Blansett arrived at KU in 2020 as the Langston Hughes Associate Professor of Indigenous Studies and History. Moving to Kansas has brought him closer to home. Blansett grew up in a small, rural town in the Ozarks region of Missouri and attended the University of Missouri for college. There, he joined, served, and became president of From the Four Directions, a Native student organization. He spent the next four years engaged in protests, activism, student programming, and Tribal engagement (including powwows and stomps throughout Kansas City and Columbia). As a college student Blansett also coordinated efforts to repatriate over 3,000 Indigenous ancestors from Mizzou's Department of Physical Anthropology, volunteered with Cherokee Nation Head Start, tutored Native youth in Kansas City through Visible Horizons, and conducted grant writing for the Santee Nation. He held internships with what was then called the Office of Indian Education Programs through the Bureau of Indian Affairs and worked for the Executive Director of Wordcraft Circle of Native Writers and Storytellers, an organization that had a profound influence later in his life as a young Indigenous scholar. During these years in the mid-1990s he worked with a great number of Tribal leaders, activists, and repatriation officers, including, but not limited to, Dennis Banks, Michael Haney, and Richard "Dick" Black. As a double major (History and Interdisciplinary Studies/American Indian Studies) he was fortunate to work with three wonderful Native faculty mentors at Mizzou: Dr. Karen Sunday Cockrell, Dr. Linda Sue Warner, and Dr. Lee Francis.
After college Blansett moved to Albuquerque and became the Special Events Coordinator of Native American Studies at the University of New Mexico. There he met William ("Bill") S. Yellow Robe, Jr., who recruited him to perform and work for Wakiknabe, an Intertribal Native Theater Company. Blansett was active in Wakiknabe throughout his years of graduate studies (part time and then full time) when he pursued an M.A. in History at UNM. Blansett's passion for activism and Native history eventually led him to research the Red Power Movement and, more specifically, the life of Akwesasne Mohawk activist Richard Oakes. During his doctoral studies, his research interests extended beyond Red Power to include histories of Indigenous migrations and Intertribalism in the South.
Education
Ph.D. in History, University of New Mexico, May 2011
M.A. in History, University of New Mexico, May 2004
B.A. in History, University of Missouri, December 1997
B.A. in Interdisciplinary/American Indian Studies, University of Missouri, December 1997
Research
—
Blansett has published numerous articles and book chapters including "When the Stars Fell from the Sky: The Cherokee Nation and Autonomy during the Civil War," "Intertribalism in the Ozarks, 1800-1865," and "San Francisco, Red Power, and the Emergence of an Indian City." In 2022 he co-edited a volume titled Indian Cities: Histories of Indigenous Urbanism. 
His book, 18 years in the making, is the first biography to explore the dynamic life and times of Akwesasne Mohawk student leader Richard Oakes, who was a key figure in the 1969 takeover of Alcatraz Island by the organization Indians of All Tribes. Published by Yale University Press in 2018, A Journey to Freedom: Richard Oakes, Alcatraz, and the Red Power Movement highlights Oakes's pivotal role in Red Power activism from the 1960s and 1970s that sparked Native liberation movements throughout North America. Blansett's book has garnered national attention with reviews in the Los Angeles Times to Indian Country Today. He has published articles in the  Washington Post, Al Jazeera, and was featured on National Public Radio's Latino USA, The Takeaway, & All Things Considered. Most recently, his book was optioned for a future Hollywood movie.
Blansett also serves as the founder and executive director for the American Indian Digital History Project. His curated museum exhibit "Not Your Indians Anymore: Alcatraz and the Red Power Movement, 1969-71," is sponsored by the National Park Service and is viewable on Alcatraz Island. His scholarship has received numerous fellowships and awards including the prestigious Katrin H. Lamon Fellowship at the School for Advanced Research in Santa Fe, New Mexico. Blansett is currently working on two future book projects: Briefcase Warriors: A History of the Native American Rights Fund; and Red Power and Popular Culture, 1945-Present.
Teaching
—
Courses taught at KU:
ISP 800 Indigenous Issues in the United States (focus on Red Power), Fall 2020
ISP 804 Special Topics in Indigenous Studies: Global Indigenous History, Spring 2021
HIST 326 Native Americans Confront European Empires, Spring 2021
Courses taught at other institutions:
American Indian History 1945-Present (Red Power)
Global Indigenous History
Native Strategies for Survival, 1860-1934
Native American Strategies for Survival, 1880-1920
History of North American Indians
American Indians and the United States: A History
American Indian Ethnography and Ethnohistory
Graduate Seminar, American Indian Historiography
Introduction to Native American/American Indian Studies
Native Nationalism and Red Power (digital history course)
U.S. History Since 1865
Vietnam War (digital history course)
Graduate Seminar in History, Biography
American Experience in World War II (digital history course)
Selected Publications
—
Indian Cities: Histories of Indigenous Urbanization (Norman: University of Oklahoma Press, 2018)
A Journey to Freedom: Richard Oakes, Alcatraz, and the Red Power Movement (New Haven: Yale University Press, 2018).
"When the Stars Fell from the Sky: The Cherokee Nation and Autonomy in the Civil War," in Empire and Liberty: The American West and the Civil War, edited by Virginia Scharff, (Berkeley: University of California Press, 2015).
"San Francisco, Red Power and the Emergence of an "Indian City,"" in City Dreams and Country Schemes: Community and Identity in the American West, edited by Amy Scott and Kathleen Brosnan, in The Urban West Series edited by David Wrobel (Reno: University of Nevada Press, 2011); 261-283.
"Intertribalism in the Ozarks, 1800-1865," American Indian Quarterly 34:4 (Fall 2010); 475-497.
"Murder at Navajo Mountain," in Roundup! Western Writers of America Anthology, edited by Paul Andrew Hutton. (Cheyenne, WY: La Frontera Publishing, 2010); 81-92.
Exhibitions
—
MUSEUM EXHIBITS
Curator, "Not Your Indians Anymore: Alcatraz and the Red Power Movement," National Park Service, Alcatraz Island, San Francisco, CA, Nov. 2019-June 2021
"Not Your Indians Anymore: Alcatraz and the Red Power Movement," Skä•noñh Great Law of Peace Center, Syracuse, New York, Oct.-Jan. 2018
"Not Your Indians Anymore: Alcatraz and the Red Power Movement," Osborne Gallery, University of Nebraska at Omaha, May-Aug. 2018