Katherine Clark
---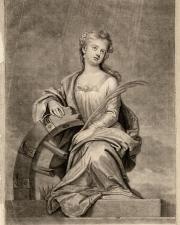 Biography
—
Professor Clark received her B.A. from Duke University and M.A. and PhD. from The Johns Hopkins University. Primarily an intellectual historian with a focus on British political, religious, and historical thought, Clark's research interests extend beyond the discipline of history to include the study of literature as well as art and architectural history. She has received fellowships from the American Philosophical Society, British Academy, Folger Institute, Huntington Library, Institute for Humane Studies, and the Mellon Foundation.
Clark's current book project explores the history of one Anglo-Norman family from the twelfth to the twentieth century. Its evidentiary base includes a unique archive of family papers extending from the medieval to the modern period as well as the family's legacy in literature, the built environment, and the decorative arts.
Teaching
—
Teaching Profile:
Clark brings her interdisciplinary interests and training into the classroom where literature and the visual arts are brought to bear upon key themes in early-modern British and European history. She offers courses at the introductory, advanced and graduate levels.
Recent Courses:
HIST 101/114: Introduction to British History
HIST 498/490: Honors Course in History
HIST 541: British History, 1500-1660
HIST 548: British History, 1660-1832
HIST 696: Seminar: The Enlightenment
HIST 833: Graduate Colloquium: Early-Modern Britain
Selected Publications
—
Daniel Defoe: The Whole Frame of Nature, Time and Providence (Palgrave/Macmillan, 2007).
"Defoe, Dissent, and Early Whig Ideology," Historical Journal, 52, 3 (2009).
"Getting Plastered: Ornamentation, Iconography, and the 'Desperate Faction,'" Architectural Space in Eighteenth-Century Europe: Constructing Identities and Interiors, eds. Baxter and Martin (Ashgate, 2010).