Eve Levin
---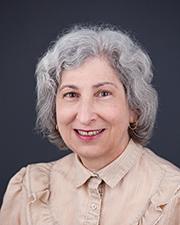 Biography
—
Professor Levin's research (Ph.D. Indiana University, 1983) focuses on the intersection of religion and popular culture in premodern Russia and the Balkans. Her first monograph, Sex and Society in the World of the Orthodox Slavs, 900-1700 (Cornell University Press, 1989) remains the path-breaking book on this subject. It has appeared in Bulgarian, Serbian, and Russian (abridged) translation. Subsequent publications, including many articles and a Russian language monograph, Dvoeverie i narodnaia religiia v istorii Rossii (Indrik, 2004) address beliefs and practices of Russian Orthodox men and women, examining prayers, veneration of saints, and spiritual healing. Her current research project explores conceptions of illness in Russia, 15th-early 18th century, from the perspectives of patients, of care-givers—folk healers, faith healers, and Western doctors—and of the institutions of the State and the Church that regulated them. Her research has been supported by grants from the American Council of Learned Societies (ACLS), Fulbright-Hays, the International Research and Exchanges Board (IREX), and the National Council for Eurasian and East European Research (NCEER). In addition, Professor Levin is recognized as an outstanding translator; her edition of Natalia Pushkareva's Women in Russian History (M.E. Sharpe, 1997) won the Heldt Prize for best translation in Slavic women's studies. From 1997-2020, Professor Levin served as Editor of The Russian Review, a leading journal of interdisciplinary Russian studies.
Teaching
—
Professor Levin enjoyed teaching students at all levels, offering courses in all periods of Russian history and in the history of Christianity. As a participant in the Carnegie Initiative on the Doctorate, she guided the revisions to the KU graduate program in History that has made it a benchmark for the nation. In particular, she promoted the use of portfolios in graduate education and preparation for a variety of career paths. Known for her devotion to graduate students, Professor Levin received the Byron A. Alexander Graduate Mentor Award from the College of Liberal Arts and Sciences in 2012. 
Past Courses:
HIST 117: Russia, An Introductory History 
HIST 510/REL 345: History of Christianity
HIST 564: Medieval Russia
HIST 801/REES 704/REL 704: Russian Orthodoxy in Historical Perspective
HIST 847: The Great Books of Russian History
Selected Publications
—
"Healers and Witches in Early Modern Russia" in Saluting Aron Gurevich: Essays in History, Literature and Other Related Subjects, ed. Yelena Mazour-Matusevich and Alexandra S. Korros (Leiden: Brill, 2010), pp. 105-133.
"Muscovy and Its Mythologies: Pre-Petrine History in the Past Decade," Kritika 12:4 (2011), pp. 773-788.