Brian Moreno
---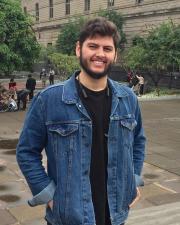 Contact Info
Wescoe Hall, Room 2015

Office Hours:
Mon. 1:00 p.m. - 2:30 p.m. (Zoom)

Wed. 1:00 p.m. - 2:30 p.m. (In-person)

---
Biography
—
I study the spiritual encounters that occurred in sixteenth-century Mexico between the Spanish and the native Nahua. Specifically, I look at the ways in which both "sides" perceived, received, transferred, adapted, and adopted Christianity.
Advised by Robert Schwaller
Selected Presentations
—
Presenting at the KAW Valley Conference in September. 
Title: Unearthing Spiritual Conflict in Early Colonial Mexico: The Motolinia Paradox.