Abigail Scott
---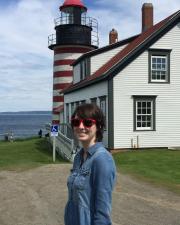 Graduate Assistant for the Western History Organization
Contact Info
Wescoe Hall, Room 2001

Office Hours:

---
Biography
—
From Slidell, Louisiana, Abigail moved to Lafayette, Louisiana prior to Hurricane Katrina. Because of Katrina and Hurricane Rita, she lived in a household with her extended, Cajun family. She holds this hectic time close to her heart, as she got to spend her formative years living and growing with her Francophone family. 
Abigail received two Bachelor's degrees from the University of Louisiana at Lafayette: one in History and the other in French. She returned to her alma mater where she got her Master's in History. Her thesis, Save a Place for Me: Natchitoches, Nacogdoches, and the Sabine Strip, 1803-1833, explores the relationship between the two frontier towns between the United States and Mexico. In 2021, she entered the Ph.D. program at the University of Kansas. At KU, Abigail studies gender and race in the American West. She is working on her portfolio, but she plans to study the French Empire in the trans-Mississippi West. 
Abigail is the proud owner of a sassy little cockatiel named Atticus. She is also an animation connoisseur as she strongly believes that animation can tell certain stories better than live action films. In her free time, she is either watching video essays, bird watching, or walking around listening to podcasts. Abigail loves all things kitschy as well: she collects porcelain clowns, loves casinos, and enjoys the horrible flower patterned apparel at Target. 
Advised by Dr. Andrew C. Isenberg and Dr. Elaine Nelson 
 
Selected Presentations
—
"Bouki et Lapin ont Ouvert L'Ouest," Louisiana Historical Association, Zoom, January 2021.