Abigail Scott
---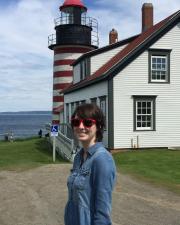 Graduate Teaching Assistant
Contact Info
Wescoe Hall, Room 2001

Office Hours:
Tues. & Thurs. 1:00 p.m. - 3:30 p.m. & by appt. (in-person)

---
Biography
—
Abigail Scott received her B.A. from the University of Louisiana at Lafayette where she obtained a degree in History and another French. Abigail returned to the University of Louisiana at Lafayette for her M.A. in history which she received in the summer of 2020. At the University of Kansas, she studies American history with a focus on Indigenous peoples, Euro-Americans, and African Americans. Her research analyzes Louisiana's role in the borderlands with a focus on cultural exchanges and coexistence between its inhabitants. 
Advised by Dr. Andrew C. Isenberg 
Selected Presentations
—
"Bouki et Lapin ont Ouvert L'Ouest," Louisiana Historical Association, Zoom, January 2021.